Just a quick look at the world through the eyes of InCoWriMo (on January 22, 2015):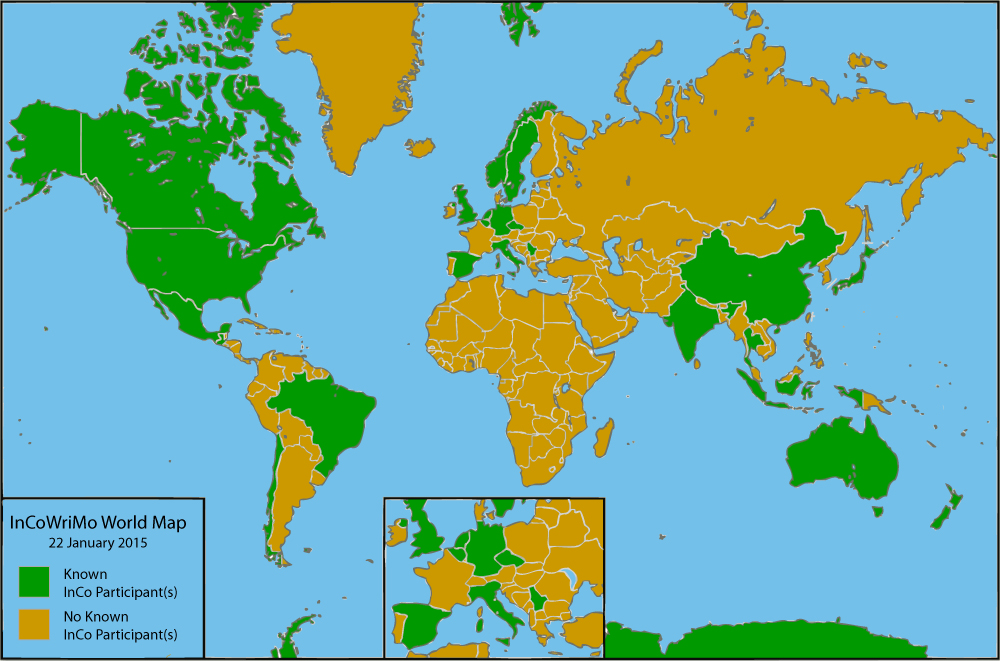 The good (and/or fantastic) news is that InCoWriMo certainly lives up to the "International" portion of it's name. With known participants in 25+ countries and one InCoWriMo-er writing from Mawson Station, Antarctica – we truly are a world wide group of correspondence penning enthusiasts!
And with that – well – there just isn't any "bad" news!
There are, of course, some obvious locations still missing from the map. If one InCo Participant in Africa would make her or himself known, InCo would be on all continents. If one InCoWriMo-er from Russia would step forward, the green on this map would become the obvious majority.
France? Où êtes-vous?
Argentina. Les esperamos.
If you are an InCoWriMo 2015 Participant and have not yet "put yourself on the map," feel free to make your whereabouts known by completing the teeny-tiny and annonymous form here: InCoWriMo 2015 Participant Map
And if you have friends anywhere on the planet that might not yet know of InCoWriMo, call them, send them an email, send them a text or let loose a carrier pigeon in their general direction asking them to join the fun!
Looking for name and addresses of willing participants? Here's the page you seek:
These 28 People Would Love to Receive your InCoWriMo Correspondence (2015)
In addition to the 28 People listed at the above link, InCoWriMo-ers the world over are using the page's comment section to share addresses.
Happy InCoWriMo!
---